Tried everything? Ready to give up?
Change Your Mind – Change Your Life
Deep Personal Coaching and Hypnotherapy for Adults
Recover from Divorce
Judith feels ABANDONED and ALONE. Her husband of 31 years suddenly announced he was leaving – he's in love with someone else. The only life she's ever known just went up in smoke in a single moment. She doesn't think she can go on; there's just no way to pick up the pieces and move forward.
Alleviate Neuropathy and Chronic Pain
Alice feels HOPELESS. She's extremely grateful she came through cancer treatment successfully, but her doctors tell her she'll have residual neuropathy in her hands and feet for the rest of her life. Doing simple tasks is difficult for her. She can't even comfortably carry her new grandchild – afraid she'll miss a step or lose hold of the tiny baby.
Regain Your Attitude of a Champion
Jim feels SHAME. A former senior executive and an extremely successful entrepreneur, he can't admit to anyone that lately he feels like he may be losing his mental edge. Jim wishes he could talk to someone and get his mojo back, but he's ashamed. And he's scared that if he does nothing, things will only get worse.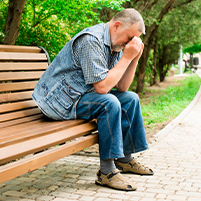 It's never too late
…to create a new life. Despite how divorce has left her feeling defeated, Judith still has a dim flame burning inside her. All she needs is someone to guide, encourage, and support her in the process of building it into a fire that will ignite her spirit.
…to try something else. Alice heard Rapid Transformational Therapy® can actually eliminate neuropathy. She's ready to try anything that will help her feel confident enough in her body to play with her grandchildren.
…to be vulnerable. Jim realized that maybe he's not alone in feeling like he's losing his mental edge, and that it could be possible to regain some of that mental power he's lost. He wants to find someone who honors his feelings without judgment and suggests concrete ways to help him feel strong and confident again.
"The beginning is the most important part of the work."
– Plato
Each one committed to finding solutions and created the changes they desired.
Judith now has the confidence to move beyond her divorce and create a life filled with joy and peace.
Alice has regained sensation in her hands and feet, and with it, a sense of independence and freedom from neuropathy.
Jim once again feels like a champion at work and at home – and enjoys the mental edge he's always known.
*The scenarios you've read here represent fictionalized composites of real clients with whom I've had success.
If you are ready to make significant changes in your life… let's talk about:
Rapid Transformational Therapy®
Attitude of a Champion Hypnosis
Deep Personal Coaching
Hi, I'm Karen
Using the approaches listed above, we will get you onto the path toward a fulfilling life.
If you are ready to awaken the wisdom you already have inside you, I'm here to walk with you and support you. When you want to give up, I won't let you. I'll be with you until you arrive where you want to be.
Let's start with just a call to see if we're a good fit. No commitment – no charge. If you believe in yourself, we can work together for lasting change in your life.
By the way, we'll have all our sessions via Zoom, so you can always be where you're most comfortable.
We question all our beliefs except for the ones we
really believe in and those we never think to question.
Call or email me now and start
living the life you deserve